Sjoukje Willems, all-round marketer
Meet Sjoukje! She's an all-round marketing professional with profound experience in project management, digital marketing and content marketing. She's a digital native with a creative mindset, who can definitely support your company in achieving its marketing goals. 
Looking for a customer driven, dynamic and creative marketing soul? Sjoukje to the rescue! 
Our available consultants
Are you interested in our marketing consultants or strategy consulting service?
Find the perfect match for your company on our available consultant page.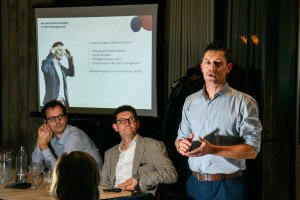 4P square café: Effective communication and project management On November 16th, we held a 4P square café. This is an intern event we organise 2-monthly with all our colleagues, consultants and freelancers so we can stay in touch with eachother during extern projects. This time, we invited Ronald De Keersmaeker as speaker. With 11 years experience as a speaker and business coach in his own company and a decade leading international projects, Ronald De Keersmaeker noticed that communication is very important. He gave us insights into communication and project management and handed us practical tools to improve our communication. Key takeaways: Communication and project management Jump Out or Stay Hidden:  Smooth Communication is Key About the author Learn more about Jennifer In the fast-paced world of project management, the need for effective communication cannot be overstated. Ronald emphasized the importance of making communication stand out while ensuring it flows seamlessly within the team. Awareness: Unlocking the next level in projects and marketing Communication is the key to taking your projects and marketing efforts to the next level. Ronald encouraged us to be aware of the impact our communication style has on our successes. Competent leadership: Sympathetic dominance Ronald introduced us
Read More »