Buying patterns have seen a monumental shift over the past decade, with customers playing a much more active and autonomous role in analysing their own needs, researching options and eventually nearing a purchase decision. This means that sales teams are often not involved until the customer is already quite far down the sales funnel. In fact, Accenture reports that most B2B buyers are already 57% of the way through the buying process before their first meeting with a sales representative.
What does this change in behaviour mean to the way companies view the functions of marketing and sales? And how do they need to adapt to keep pace? In this whitepaper, we start off by looking at how the roles of marketing and sales teams have evolved – and are continuing to evolve – and why it's so important that the two teams align. We also look at two strategic planning techniques to help you evaluate your competitive position and decide on the best strategy for your company.
Finally, we share one of our tried-and-tested 4P square marketing strategy models and finally, we guide you through the task of turning a great 'on-paper' strategy into an executable action plan that delivers measurable results. Download the whitepaper below.
Download the Marketing & Sales Strategy Whitepaper
Whitepaper - Marketing & Sales Strategy
Then and now: the evolution of marketing and sales
Following the Great Depression in 1929, stock prices fell, production output shrank, and unemployment soared.
Companies needed to develop techniques to 'move' products. With little concern for customer needs and satisfaction, the focus was on closing deals, and sales teams relied on personal selling (cold call, door-to-door etc), print and billboard advertisements and radio commercials.
After the Second World War, U.S. firms – whose manufacturing capacities had not been destroyed by the war, unlike many other countries – started to produce a wider range of consumer products than ever before.
With a wealth of possibilities, their focus shifted from 'simply' manufacturing products to satisfying customers' needs and expectations.
Over the course of the intervening years, the shift towards more customer-centric business models continued, and accelerated dramatically with the arrival of the internet and the digital age.
Companies can no longer hide behind promises of quality and service, as customers now have instant access to a huge amount of information about brands, products and services, both from proprietary sources, as well as reviews and testimonials.
This means that marketing efforts need to accompany customers much further down the buying funnel than ever before, building trust and developing relationships.
Continual advancements in marketing automation software and big data analytics give marketers priceless information about customers real, rather than assumed, needs and behaviours.
This means that with the right alignment between marketing and sales teams, focus can be placed on the best quality leads, resulting in better sales figures and happier customers.
The importance of Marketing and Sales Alignment and How to Make it Happen
Unfortunately, misalignment between sales and marketing teams – roles that have traditionally been separated – is a common problem that many companies face.
Looking at the figures, it's clear that companies need to take action and at least rethink how these two teams interact: HubSpot writes that misalignment between marketing and sales costs B2B companies 10% of revenue or more per year, while companies with aligned practices generate over 200% more revenue from their marketing efforts.
So what are some of the key elements to ensuring better alignment that will bring out the best of both functions?
Get to know each other and have open lines of communication: If your marketing and sales teams have been operating independently, organise a series of workshops so the teams can explore how each other operates. Then, set up regular meetings where the two teams can review topics that are relevant to both, such as lead generation. Encourage constructive feedback between the teams, and task them with coming up with common strategies to generate and convert leads that are high-quality.
Create a single customer journey: Creating a common view of the end-to-end customer journey will help get the two teams on the same page. Because customer journeys are rarely linear, and given that customers increasingly expect a seamless experience, nevertheless, having segregated marketing and sales efforts no longer makes sense.
Right from the first moment a customer interacts with your brand, through to the loyalty stage, the entire process should feel like one experience. The only way to do this is to ensure that marketing and sales efforts are aligned.
For a more in-depth look at these points, as well as how aligning terminology, processes and goals, can help, read more about marketing and sales alignment.
How a SWOT Analysis Can Help You Build a Strategy for Success
In an increasingly complex and fast-moving business and IT landscape, it's reassuring to know that some simple, tried and trusted techniques continue to deliver valuable insights into what's working well and what's not, and how to improve. The humble SWOT analysis is one of these techniques
A SWOT analysis is a structured brainstorming technique that lets you identify the Strengths, Weaknesses, Opportunities and Threats related to a specific topic. For example, you can use it to analyse a new or existing strategy, a product or service, a new campaign, or even your business as a whole.
By looking at internal factors (strengths and weaknesses) and external factors (opportunities and threats), SWOT gives you both a holistic view and the beginnings of a roadmap for your next steps.
Read more for a detailed look at how to turn your SWOT analysis into a confrontation matrix – which can help you identify strategic options and achieve consensus on which strategies to pursue.

4P square Marketing Strategy to Boost your Bottom Line
Did you know that a well-designed marketing strategy can have wide-reaching effects, including boosting your bottom line? Our 3-pillar model – developed in-house and implemented successfully with many of our clients – increases brand equity, grows revenues, while at the same time, ensures you keep costs under control.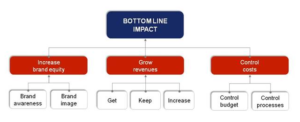 How Turn your Marketing Strategy into a Concrete Marketing Plan
A strong marketing strategy is an important element of any company's success, crystallising the vision for the future and forming a roadmap of the most important goals and milestones.
However, for your strategy to deliver measurable results, it needs to be transformed into executable actions, with individuals and teams being aligned and accountable for delivery. So how can you turn strategy into action?
Here, we look at the important steps to ensuring all parts of the puzzle are where they should be. We suggest taking a quarterly approach to your marketing plan – this gives enough time to actually achieve results, yet means that you can also adapt based on performance or external factors.
Based on the goals you identify in your marketing strategy, establish specific objectives per quarter. For example, a goal of increasing your social media following can translate to a quarterly objective of growing your LinkedIn followers by 20% by the end of the quarter.
For each objective identify specific goals, Key Performance Indicators (KPIs) and the deliverables needed to ensure that goal is met, e.g. perform content audit for current company page, create content for company page to fill gaps, create snackable content items that can easily be shared, develop content calendar etc.
Break deliverables down into tasks. These should clearly state what needs to be done, by who and by when. Don't forget to think about dependencies between tasks and deliverables, so that you can prioritise in a way that actually makes sense.
But the work doesn't stop here. Once your team is executing the marketing plan, make sure to keep a close eye on progress.
Conclusion
Marketing and sales can't exist without each other, but their respective roles have evolved greatly over the last 70 years, and continue to do so.
To be able to truly delight customers with a smooth and seamless customer experience, companies need to reduce friction between the two teams, and develop strategies that make the most of the strengths of each.
Developing a truly customer-centric approach is one important way to bring the two visions together, with the ultimate goal of creating happy and loyal customers.
And while strategies are key to shaping the vision of things to come, turning those strategies into detailed action plans is the only way to bring concrete results.
Is your marketing and sales strategy bringing bottom-line results? Get in touch to find out how we can support you.
Contact us now