To deliver delightful customer experiences and increase your share of your customer's wallet, you need to create a Customer Value Management (CVM) framework using the tools that you have available. This provides a holistic approach to crafting and continuously enhancing your customer's journey.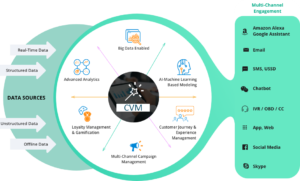 Customer Relationship Management (CRM) tools
Examples: Salesforce Essentials, Microsoft Dynamics 365, Freshdesk, Zoho
Successful companies do more than just find new customers. They record every interaction with the customers they already have.
However, CRM involves more than just keeping track of names and basic contact information. A consistent CRM tool allows your customer-facing teams, such as your helpdesk, to consult all the information they need to keep customers happy and, most importantly, to keep them buying.
Persona tools
Examples: Xtensio, Hubspot, UserForge, Smaply
"Actionable buyer personas reveal insights about your buyers' decisions—the specific attitudes, concerns and criteria that drive prospective customers to choose you, your competitor or the status quo." – Adele Revella, founder of Buyer Persona Institute
Customer personas can provide tremendous value and insight to your organisation. They can:
help you develop a deeper understanding of customer needs and how to cater to those needs;
guide product development by creating features that help customers achieve their desired outcomes;
determine which projects, campaigns and initiatives are worth your time and resources; and
create alignment across the organisation and rally other teams around a customer-centric vision.
Big data tools
Examples: Apache Hadoop, Cloudera, Cassandra, Knime
Data is meaningless until it is turned into useful information and knowledge that can support management in their decision making.
There is some highly performant big data software available on the market that can help you store, analyse, report and generally do a lot more with data.
Worth noting is that big data management typically falls under the responsibility of your IT department.