marketing blog
Book review: Video marketing as your new content marketing strategy
During the presentation organised by 4P square for the 4P square marketing community, we had the pleasure of listening to Clo Willaerts  – digital marketer. Her book "video marketing like a pro" was written after she discovered that there was still no specific guide for video marketing in the year 2020. Clo has provided us with valuable insights on video creation and video marketing, and I have to admit that I am eager to start right away.
Contact 4P square about video marketing
What can video

do for you?
Video is a strategy to connect with people digitally. It goes a step further than other (non-moving) communication. Video will allow you to create a close connection.
What is video

all about today?
Where it used to be about the number of followers and the number of likes, we are now looking at engagement! Engagement ensures interaction and interaction ensures connection.
"Videos allow people to connect on a more human level than a faceless email or a more generic video. Video communication enables empathy. It will enable real people to tell real stories in ways that text or pictures simply can't."
– Clo Willaerts
Video formats
There are many different video formats. Music videos (Youtube, Tiktok, …) are very popular these days. However, without being aware of it, we use all other kinds of video almost on a daily basis.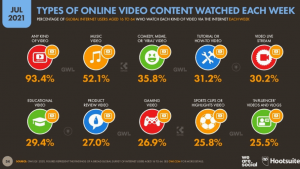 From video

to video marketing
The most popular categories of marketing videos are:
How to's
Product demos
Explainers
Webinars
But how can you market with video? Firstly, you want your target audience to be willing to watch it. Secondly, the message needs to achieve your business goals. These videos have to attract and keep the audience attention, but most of all keep the audience to come back for more and even recommending it to their peers.
5 main trends and 5 quick tricks

for your future success!
5 main trends
Interest for video keeps growing
User generated content is still very popular
Mobile first
Video marketing is the new content marketing
The digital video gold rush – the demand is there
5 quick tricks
Create a video people want to watch
Bring your story to life
Show, don't tell
Authenticity over perfection
Call to Action (CTA) on point
Making videos doesn't always have to be time-consuming and expensive. With the right equipment (yes, even your smartphone) and the right lighting you can do a one person crew
Don't let your audience heartbeat skip ones, but let it skip 5 times. They will remember you
Use the five marketing objectives within video marketing as well: awareness, consideration activation, loyalty and advocacy
Start NOW by making your video marketing strategic plan!
"The best time to invest in video marketing was 20 years ago.
The second best time is now."
– Clo Willaerts
Follow Clo for all kind of information on video you need: like a pro with Clo!
Stefanie De Belder is a young, dynamic and result-driven digital marketeer. She is currently working as a Marketing Consultant at 4P square. 4P square is a leading sales & marketing consulting company helping companies to reach their marketing goals.
Want to know more about Stefanie? Feel free to start a conversation with her on LinkedIn.