News
How to Turboboost Your Marketing Career
Finding a job you love shouldn't be hard.
At 4P square, we guide youth towards success and help them expand their possibilities.
On March 10th, Raf Van Puyvelde,  managing director of 4P square, will inspire more than 100 students at the BAM Student Congress in Antwerp.
The goal of this keynote is to present students with actionable tips and tricks to jump-start their marketing career.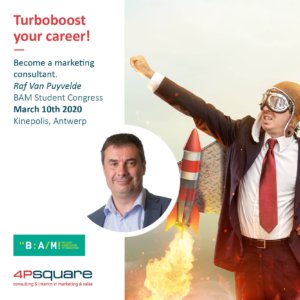 Get inspired now
Tuesday, March 10th 2020
Kinepolis, Antwerp
Room 4 at 9AM
Visit our booth located in the Hollywoodzaal. You will go home with awesome goodies and learnings. See you there?