Big data
The Size of Data Generated Every Minute In 2020
It has been said so many times already, 2020 is a year to quickly forget. However, let us take a minute (pun not intended) and look back at what happened in 2020 and how much data we generated every sixty seconds. Last year we probably witnessed the biggest data consumption in the history of mankind. We replaced physical meetings by video calls, spoke to our friends via social media, ordered more than ever before online and had plenty of free time to kill with Netflix.
Gone in 60 seconds
If we have a look at how much data was generated every single minute in 2020, we find out that Stories on Instagram are incredibly popular: we posted over 347,000 Stories per minute. Every sixty seconds, some 2,700 people installed TikTok, and probably posted an awkward dance-video a few moments after. We notice that video is still very important, whether it is uploading on YouTube (500 hours) or binge-watching Netflix (404,444 hours). Online shopping got a big boost as well. In addition, we ordered 6,659 packages on Amazon and spent a total of 1,1 million dollars online every minute. Staying in touch was never so digital than in 2020. 208 thousand people participated in Zoom meetings, Microsoft Teams connected 52,083 users and 41,7 million WhatsApp messages were sent.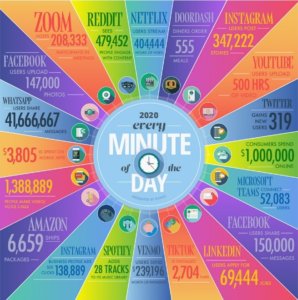 The era of live streaming
And if that all that data consumption is not enough, we spent countless hours gaming live. In Q3 alone we live-streamed for 205,6 million hours on Twitch, 12,5 million hours on YouTube Gaming Live and 7,6 million hours on Facebook Gaming.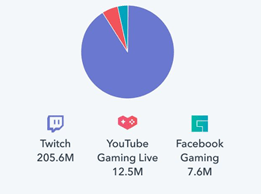 Impressive isn't it? The internet population keeps significantly growing year by year. In 2014 the internet reached 3,0 billion people. Furthermore, as of April 2020, 59% of the world's population has internet. That represents 4,57 billion people. Let that sink in for a moment.
All this data teaches us that there are ample ways of reaching our target audience. And new ways are created all the time. Are you using Twitch, TikTok or other new channels to reach your core audience? Where is your community most active?
Get in touch and we can have one of our consultants answer these questions for your company within 48h!